Summoning / Edge Lands 7" (lathe)
Racah
Available Formats
No. of Tracks
Price
Buy
7" Vinyl Single
2 tracks

£

11.00

Download Single (

mp3

)
2 tracks

£

1.98

Download Single (

wav

)
2 tracks

£

1.98

Download individual tracks
From £0.99
Description
Racah - Summoning / Edge Lands 7" (lathe)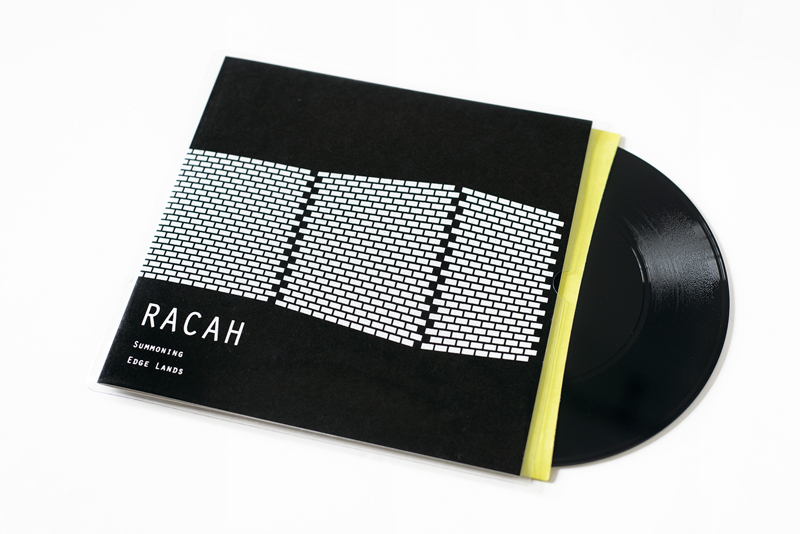 Racah is an on-going collaboration between South England based sound artists RSPTN (f.k.a. Rasputin) and The Bricoleur. Their Summoning / Edge Lands is the 6th entry into the Bladud Flies! Abhorrent Jukebox 7" series. Selected from over four hours of continuous music, these two short tracks are microcosmic distillations of the nighttime recording session as a whole; downbeat, fugue state ambience occasionally boiling over into pulsating blasts of noise.

The claustrophobic Summoning takes some cues from dub with a distant bass line propelled by a slow lurching beat and spluttering space age electronics, while Edge Lands is an even more disparate and dissonant affair. Murky, blown-out tones shift into pink noise as the childlike chimes of a carillon lullaby echo sinisterly in the background.

The 7" lathe comes housed in a beautiful screen-printed sleeve with yellow paper inner. A particularly elegant touch is the BF! logo and catalog number that has been engraved on side A.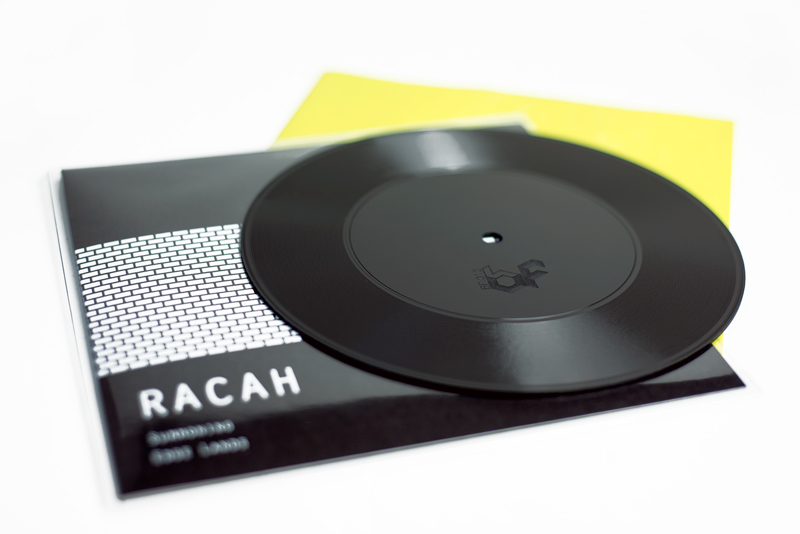 mp3 downloads
Downloads
| Track Number | Track Name | Track Length | Price | Buy |
| --- | --- | --- | --- | --- |
| 1 | Summoning | | £0.99 | |
| 2 | Edge Lands | | £0.99 | |
| | Entire MP3 Download Single (2 tracks) | | £1.98 | |
MP3 format technical details

These mp3 tracks have been encoded with LAME providing you with a very rich listening experience. No DRM or copy protection is built in to the mp3s.
wav downloads
Downloads
| Track Number | Track Name | Track Length | Price | Buy |
| --- | --- | --- | --- | --- |
| 1 | Summoning | | £0.99 | |
| 2 | Edge Lands | | £0.99 | |
| | Entire WAV Download Single (2 tracks) | | £1.98 | |