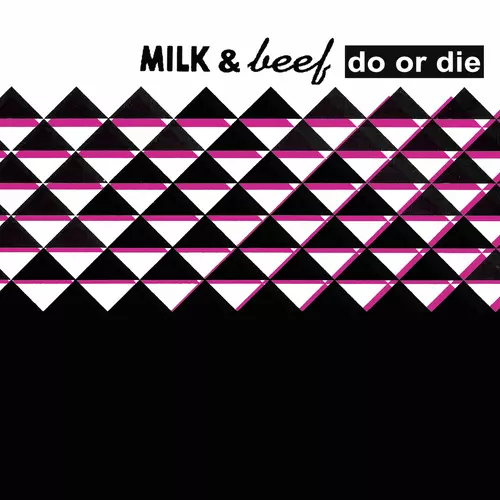 Do or Die (Resurrection)
Available Formats
Tracks
Price
Buy
12" Vinyl Album
14 tracks

£

20.00

Download Album (

MP3

)
16 tracks

£

7.99

Download Album (

WAV

)
16 tracks

£

7.99

Download individual tracks
From £0.99
Description
Milk & Beef - Do or Die (Resurrection)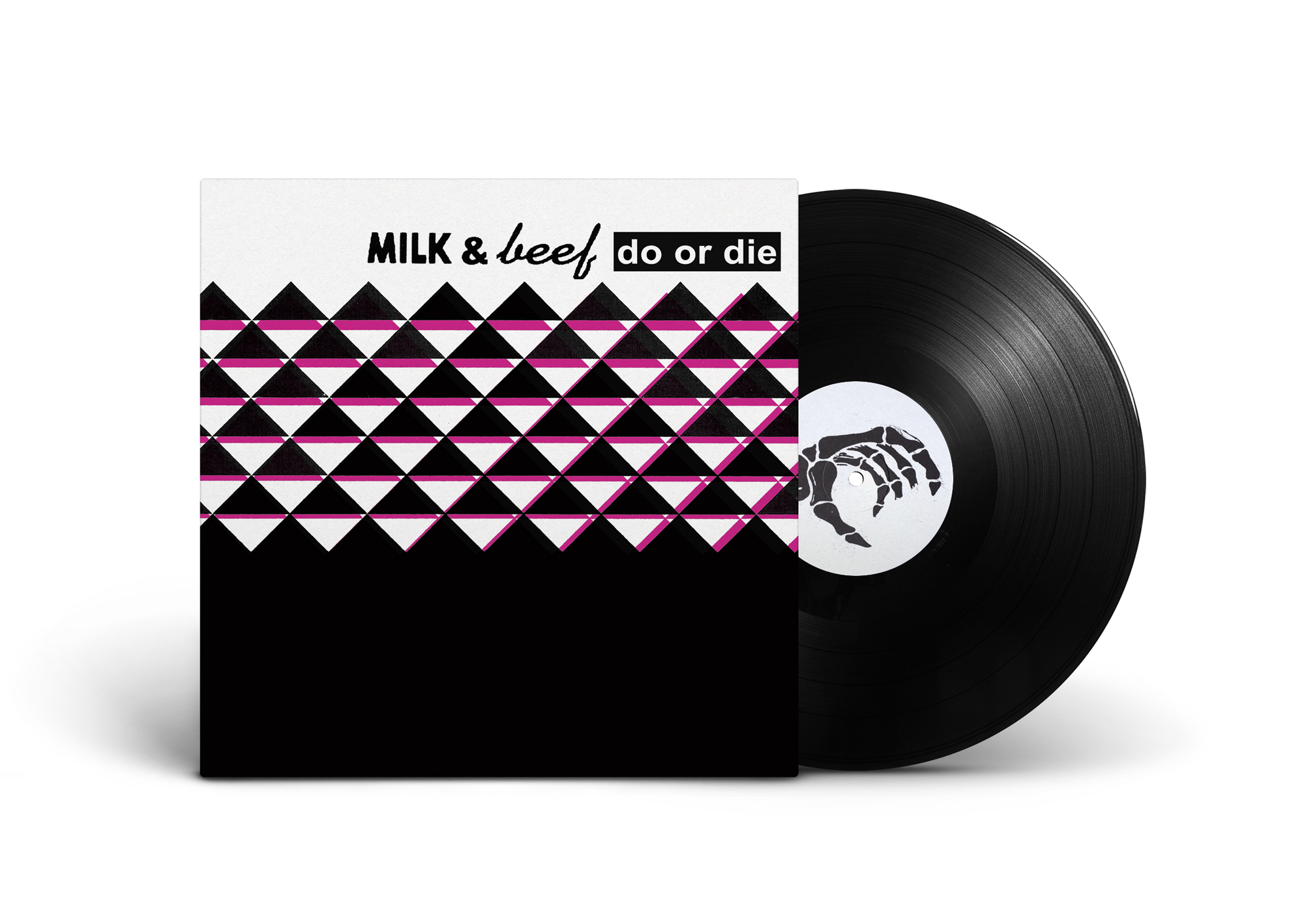 Originally conceived as a hip-hop scratch/battle record for turntablists,
Do or Die
is made up of short instrumental beats interlaced with sound effects and vocal snippets. Predominantly constructed from obscure vinyl samples, the record also features an Emu Drumulator, and live performance samples of cello, organ and percussion. Re-contextualized as home listening experience, the album sounds timeless and fresh, a musical journey rich with drama, romanticism, and humour.
Do or Die
, was produced over the course of a year (2003-2004), and self-pressed by Milk & Beef as 1,000 vinyl LPs at the end of 2004. This pressing was taken on by short-lived label The Thin Man, and released in 2005 with catalog number TTM001.
Of the 1,000 copies pressed, 100 were distributed directly by Milk & Beef, and we believe a further 150 were sold through The Thin Man. So roughly 750 copies remained in stock, 50 of which were held by the artists, 700 by the label.
In 2009, Milk & Beef were approached by
Bladud Flies!
with a view to re-releasing
Do or Die
. The Thin Man were duly contacted to request the return of the 700 copies, but to our horror and disgust, confessed to having 'thrown them in a skip' a couple of years previous. They showed very little remorse, and we were left shocked, upset, and short of 700 records…
Not wishing to dwell on this distressing and acrimonious situation, we decided to go ahead anyway, individually screen-printing a new sleeve design for the 50 copies still in our possession, and releasing them as a now very limited one off edition:
Do or Die (Resurrection)
. Vinyl purchasers will also receive a free download of a digital version re-mastered by The Bricoleur and featuring 2 bonus tracks,
Louise
and
VW
.
We suspect there are still copies of The Thin Man release of
Do or Die
out there somewhere, possibly in the back of a record shop, or maybe in a skip near you. However, it's safe to say that this limited run of 50 editions are all salvaged artefacts to be treasured.
Is this the end of the Milk & Beef story? Or will there be 'Life After Death'…
– Milk & Beef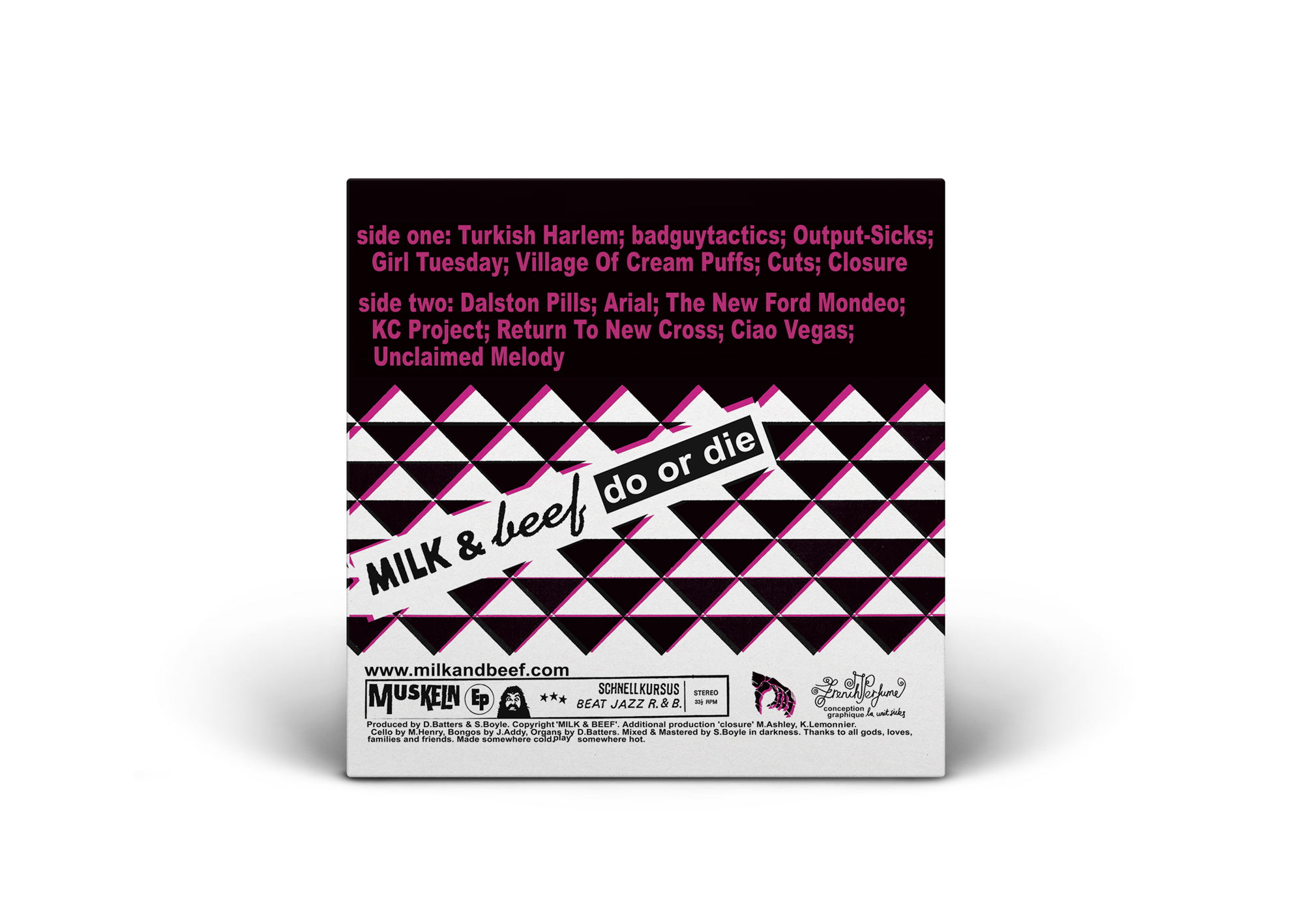 Tracklisting
12" Vinyl Album (MB001LP)
Download Album (MB001DIG)