Riemann Angels
Reinier Van Houdt
Available Formats
No. of Tracks
Price
Buy
7" Vinyl Single
2 tracks

£

11.00

Download Single (

mp3

)
2 tracks

£

1.98

Download Single (

wav

)
2 tracks

£

1.98

Download individual tracks
From £0.99
Description
Reinier Van Houdt - Riemann Angels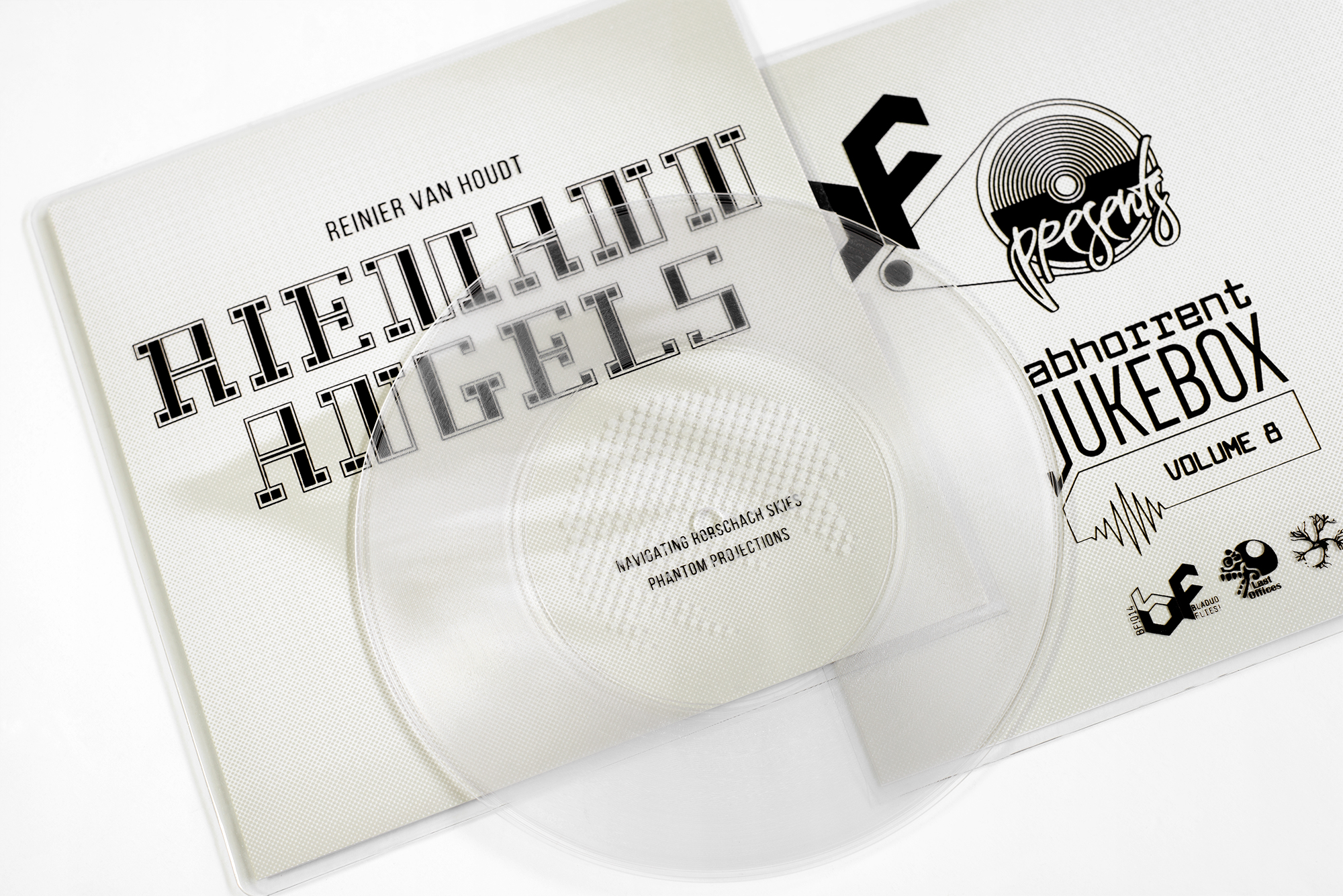 Bladud Flies!
presents
Reinier van Houdt
:
Riemann Angels
, the 8th entry into the
Abhorrent Jukebox
7" series.
Limited edition - 60 copies - engraved clear lathe cut vinyl.
Reinier van Houdt works with radio's, synthesizers, keyboards and recordings of unintentional sound. He has made various releases and collaborated with artists like Francisco López, Current 93, Walter Marchetti, Michael Pisaro, Maria De Alvear, Annea Lockwood and Christian Marclay. Reinier also has a prodigious practice as a pianist of unorthodox, hybrid, extremely minimal or virtuoso music and has premiered work by e.g. Robert Ashley, Alvin Curran, Kaikhosru Sorabji, Charlemagne Palestine and many more.
When I was in HighSchool around 1980, I walked the streets armed with a portable cassette-recorder, catching many unawares, and I collected quite a large cut-up fragmentary journal of strange and often pointless material—especially now that the sources and the moods are gone. Hard to say why, other than out of fascination. It's not unlike Alvin Lucier's strategy against his agoraphobia: to go out, record and imitate/translate. As an upbeat of later things to come, today two short pieces are released under the name RIEMANN ANGELS.
—Reinier van Houdt
mp3 downloads
Downloads
| Track Number | Track Name | Track Length | Price | Buy |
| --- | --- | --- | --- | --- |
| 1 | Navigating Rorschach Skies | | £0.99 | |
| 2 | Phantom Projections | | £0.99 | |
| | Entire MP3 Download Single (2 tracks) | | £1.98 | |
MP3 format technical details

These mp3 tracks have been encoded with LAME providing you with a very rich listening experience. No DRM or copy protection is built in to the mp3s.
wav downloads
Downloads
| Track Number | Track Name | Track Length | Price | Buy |
| --- | --- | --- | --- | --- |
| 1 | Navigating Rorschach Skies | | £0.99 | |
| 2 | Phantom Projections | | £0.99 | |
| | Entire WAV Download Single (2 tracks) | | £1.98 | |